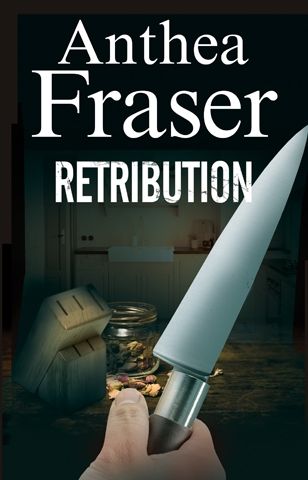 Retribution
by Anthea Fraser
Biographer Rona Parish finds herself embroiled in another mystery when her latest projects take disturbing and unpredictable turns.
Biographer Rona Parish is keen to finish her series on successful single mothers for local glossy magazine, Chiltern Life – and interviewing the mysterious and intriguing Nicole Summers should finish off the series nicely. But on one of her visits to Nicole's house, Rona makes a shocking discovery . . .
Meanwhile, Rona has also taken on a new project – finishing the book acclaimed biographer Russell Page was writing on Gideon Ward, a TV presenter, before the recent car crash that killed him. But when Russell's wife hands over his notes and papers, Rona soon starts to realize that something isn't quite right.
As Rona throws herself into trying to find the answers to her many questions, a catastrophic event from the past is about to have massive ramifications for the present
Editions
Retribution by Anthea Fraser is available in the following formats
| | | | | | |
| --- | --- | --- | --- | --- | --- |
| Hardback | 9780727886705 | 1st March 2017 | 147 X 224mm | 192 | $28.99 |
| Hardback | 9780727886705 | 30th November 2016 | 147 X 224mm | 192 | £20.99 |
| Hardback | 9780727886705 | 1st March 2017 | 147 X 224mm | 192 | $28.99 |
| Hardback | 9780727886705 | 30th November 2016 | 147 X 224mm | 192 | £20.99 |
| Ebook | 9781780108414 | 1st March 2017 | N/A | 192 | $6.99 |
| Ebook | 9781780108414 | 1st March 2017 | N/A | 192 | £4.99 |
| Ebook | 9781780108414 | 1st March 2017 | N/A | 192 | $6.99 |
| Ebook | 9781780108414 | 1st March 2017 | N/A | 192 | £4.99 |
| Paperback | 9781847517739 | 5th June 2018 | 140 X 226mm | 192 | $17.95 |
| Paperback | 9781847517739 | 30th March 2018 | 140 X 226mm | 192 | £12.99 |
| Paperback | 9781847517739 | 5th June 2018 | 140 X 226mm | 192 | $17.95 |
| Paperback | 9781847517739 | 30th March 2018 | 140 X 226mm | 192 | £12.99 |
| Format | ISBN | Publication Date | Dimensions | Pages | Price |
The Rona Parish Mystery Series