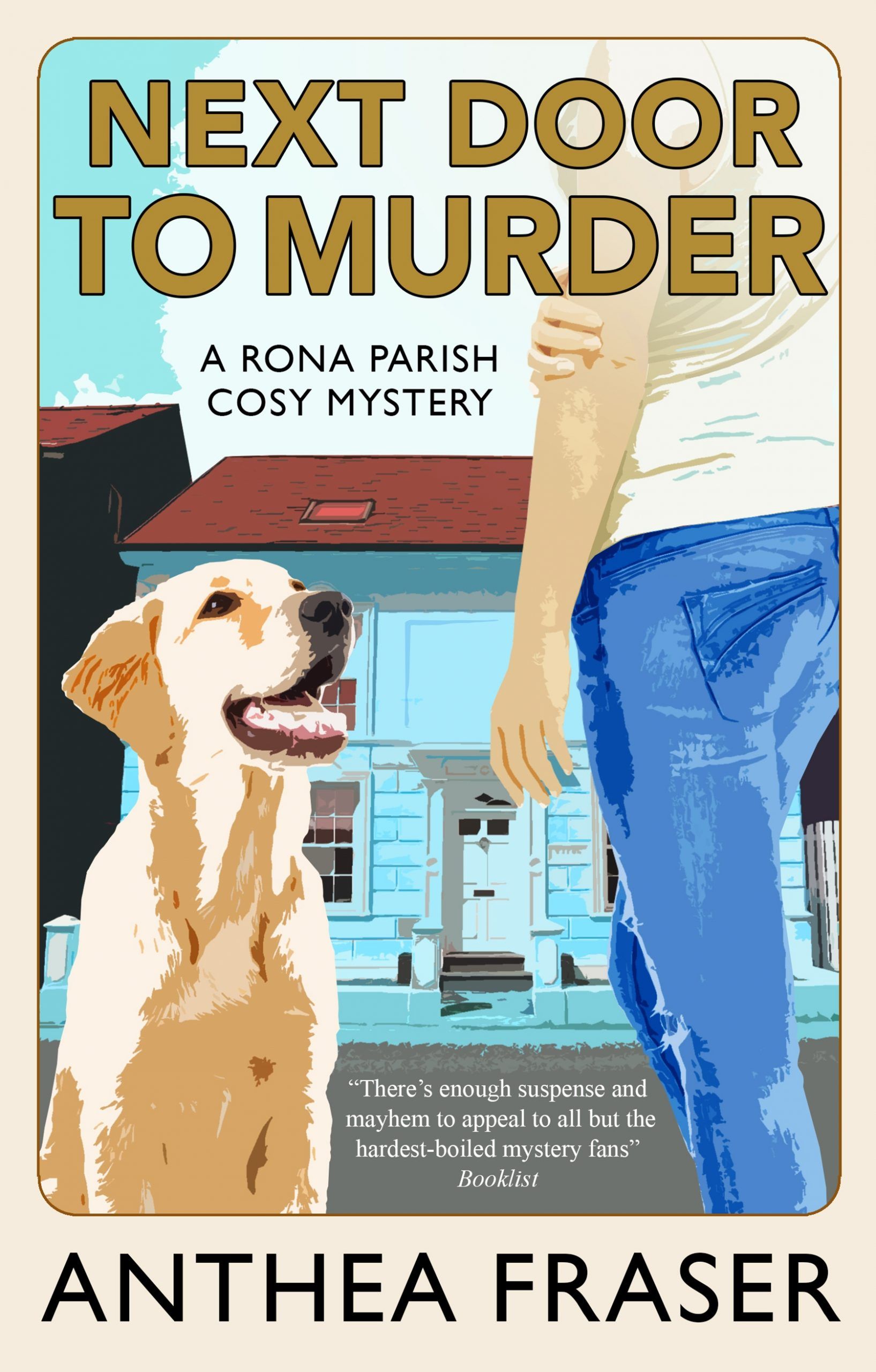 Next Door to Murder
by Anthea Fraser
Meet Rona Parish, a talented biographer who has a skill for writing about the past and encountering danger along the way, and her adorable golden retriever, Gus.

Rona's latest project focusing on one of Marsborough's most prominent families lead her to a chilling revelation that hits a little too close to home . . .

Esteemed biographer and freelance journalist Rona Parish is raring to start a new project for the glossy magazine Chiltern Life, and who better to research than the Willow family whose furniture shop coincided with the development of Marsborough itself. For once, there doesn't seem to be any skeletons in the Willow family cupboards.
You never know what's going on behind closed doors . . .
Meanwhile, Rona is curious about the new tenants that have moved in next door. Elderly couple Barbara and Keith Franks aren't very forthcoming and have left Rona feeling uneasy. So when their daughter Louise asks Rona for her help, she cannot help but delve into the family's strange history. Why did they decide to move to Marsborough from Canada? And what has made Louise so frightened?
You can't run away from your past.
Once again, Rona's curiosity has flung her into another dangerous situation with potentially deadly consequences . . .
A page-turning cosy mystery set in the fictional English market town of Marsborough in the stunning Chiltern Hills.

Fans of M.C. Beaton, Richard Osman, Reverend Richard Coles, G.M. Malliet, Margery Allingham, Betty Rowlands and Faith Martin will love this series.
READERS ADORE RONA PARISH:
"I've grown quite fond of this character, and will be sad when I've completed the series"
"All of the books in this series … are well written with interesting characters"
"I loved this quaint British mystery"
"They are well written but light and easy to digest"
"Once again, Fraser tracks an appealing family . . . [who] are always entertaining" Kirkus Reviews
"The Rona Parish series perfectly captures everyday life in the small towns of the UK . . . [with] enough suspense and mayhem to appeal to all" Booklist
The Rona Parish mysteries
1. Brought to Book
2. Jigsaw
3. Person or Persons Unknown
4. A Family Concern
5. Rogue in Porcelain
6. Next Door to Murder
7. Unfinished Portrait
8. A Question of Identity
9. Justice Postponed
10. Retribution
Reviews
"Once again, Fraser tracks an appealing family . . . [who] are always entertaining"
Kirkus Reviews
"The Rona Parish series perfectly captures everyday life in the small towns of the UK . . . [with] enough suspense and mayhem to appeal to all"
Booklist
"Veteran Fraser offers a straightforward British cozy with an inventive plot and an engaging heroine. This will appeal to traditional cozy fans who like a bit of spice and zing"
Booklist on Rogue in Porcelain
"Fans will doubtless enjoy the ongoing Parish family saga"
Kirkus Reviews on Rogue in Porcelain
Editions
Next Door to Murder by Anthea Fraser is available in the following formats
| | | | | | |
| --- | --- | --- | --- | --- | --- |
| Ebook | 9781780102511 | 1st March 2012 | N/A | 224 | $2.99 |
| Ebook | 9781780102511 | 1st March 2012 | N/A | 224 | £2.99 |
| Format | ISBN | Publication Date | Dimensions | Pages | Price |
Rona Parish ebooks Series