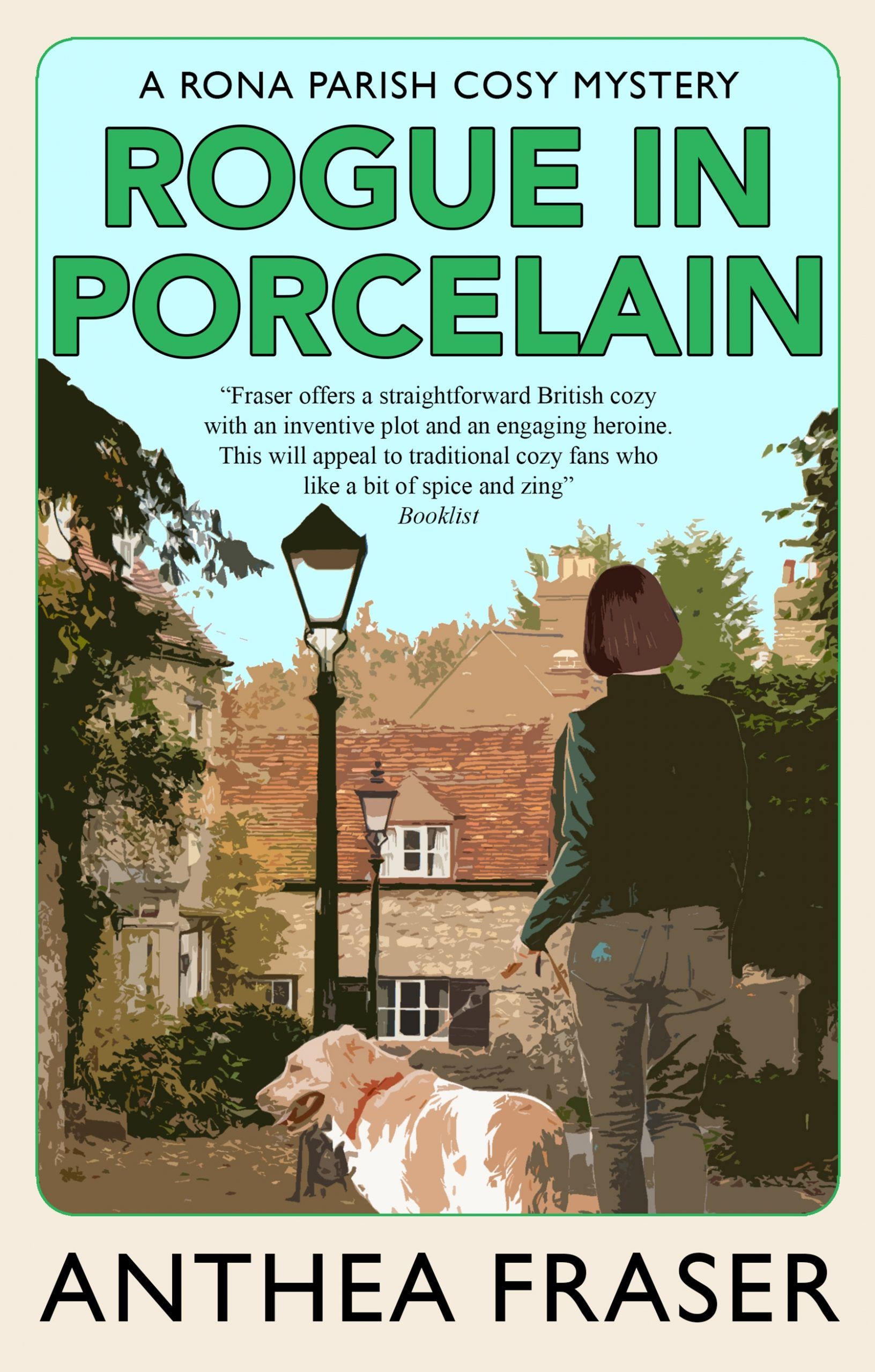 Rogue in Porcelain
by Anthea Fraser
Meet Rona Parish, a talented biographer who has a skill for writing about the past and encountering danger along the way, and her adorable golden retriever, Gus.
Betrayal, deception, passion . . . Rona Parish digs up the truth about one of Marsborough's oldest family firms when she makes a terrible discovery in a cemetery.
Famous porcelain firm Curzon is about to celebrate its 150th anniversary, making it a perfect fit for Rona's series of articles researching the history of Marsborough's oldest family firms.
Every family has its secrets . . .
As Rona delves into the history of the celebrated Curzons through family letters and diaries, she learns more about the founder's son, the scandalous George Curzon, a rake with the nickname 'Rogue in Porcelain', his escapades, and a staggering secret he was hiding.
Some are too explosive to stay buried.
When Rona pays a visit to the family burial ground, she is shocked to discover a body, and even more so when she unearths surprising links between the dead person and the Curzons. Could the tragedy in the cemetery have its tangled roots in the past?
A page-turning cosy mystery set in the fictional English market town of Marsborough in the stunning Chiltern Hills.

Fans of M.C. Beaton, Richard Osman, Reverend Richard Coles, G.M. Malliet, Margery Allingham, Betty Rowlands and Faith Martin will love this series.
READERS ADORE RONA PARISH:
"This is an entertaining and well-written mystery"
"Anthea Fraser writes a good story with family and familiar characters that go with you from book to book. She manages to combine the ordinary daily life of a family with the excitement of mystery and mild crime"
"Well-paced and easy to read with likeable characters"
"Fraser is excellent with characterizations and there's some riveting personalities in this one"
"Another great read by Fraser"
"Love this series"
"Veteran Fraser offers a straightforward British cozy with an inventive plot and an engaging heroine. This will appeal to traditional cozy fans who like a bit of spice and zing" Booklist
"Fans will doubtless enjoy the ongoing Parish family saga" Kirkus Reviews
The Rona Parish mysteries
1. Brought to Book
2. Jigsaw
3. Person or Persons Unknown
4. A Family Concern
5. Rogue in Porcelain
6. Next Door to Murder
7. Unfinished Portrait
8. A Question of Identity
9. Justice Postponed
10. Retribution
Reviews
"Veteran Fraser offers a straightforward British cozy with an inventive plot and an engaging heroine. This will appeal to traditional cozy fans who like a bit of spice and zing"
Booklist
"Fans will doubtless enjoy the ongoing Parish family saga"
Kirkus Reviews
"This addition to the Rona Parish series a sure fire hit for readers who like to mix cozy mysteries with gentle women's fiction"
Booklist on A Family Concern
"Rona's ever-absorbing family issues and a competent conundrum make this another hit in Fraser's Marsborough series"
Kirkus Reviews on A Family Concern
"Immediately engaging plot"
Library Journal on Persons or Persons Unknown
Editions
Rogue in Porcelain by Anthea Fraser is available in the following formats
| | | | | | |
| --- | --- | --- | --- | --- | --- |
| Ebook | 9781780102580 | 1st March 2012 | N/A | 256 | $2.99 |
| Ebook | 9781780102580 | 1st March 2012 | N/A | 256 | £2.99 |
| Format | ISBN | Publication Date | Dimensions | Pages | Price |
Rona Parish ebooks Series