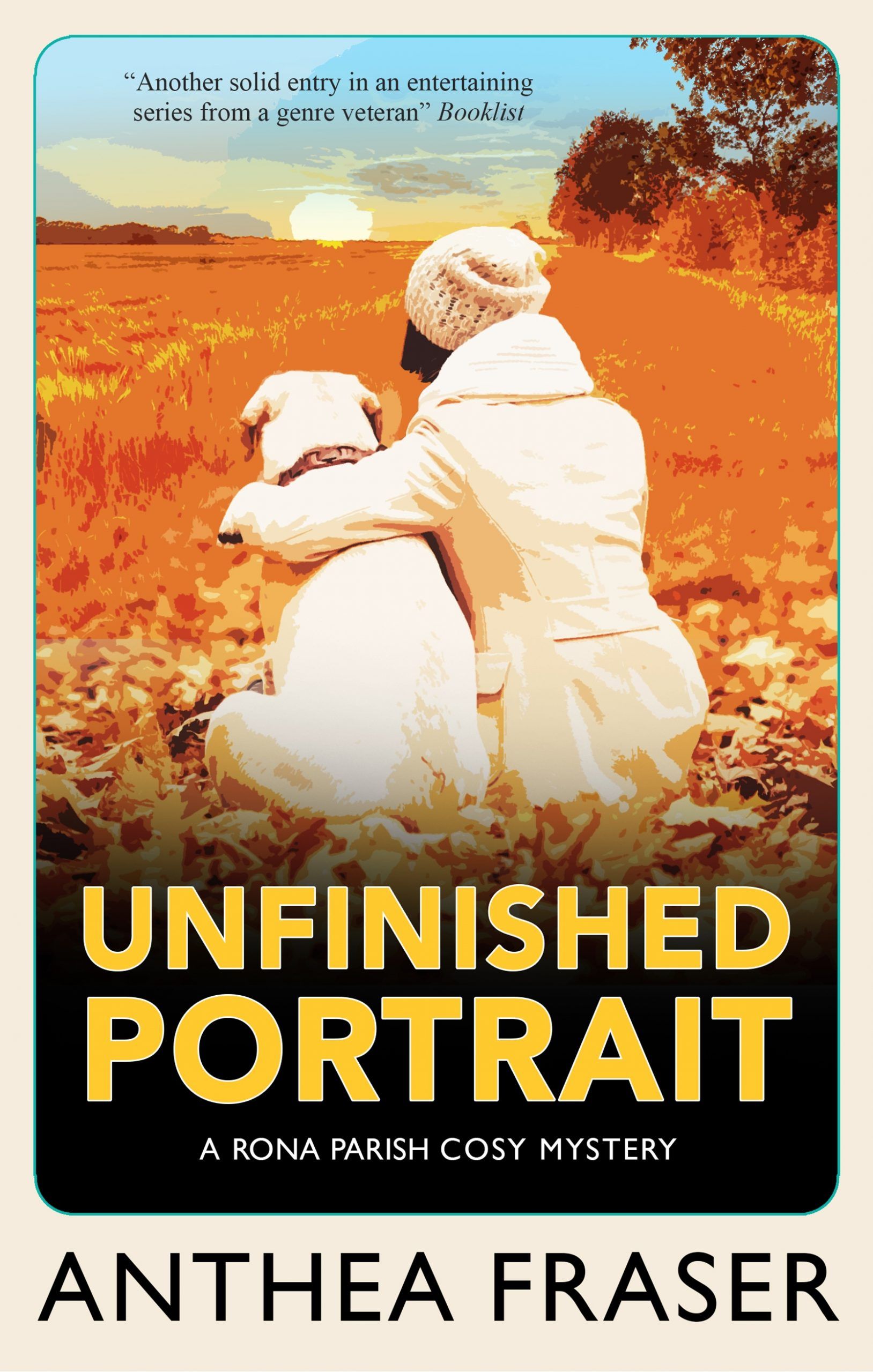 Unfinished Portrait
by Anthea Fraser
Meet Rona Parish, a talented biographer who has a skill for writing about the past and encountering danger along the way, and her adorable golden retriever, Gus.
When Rona is asked to write a biography on the missing enigmatic artist, Elspeth Wilding, she finds there are as many unanswered questions as unfinished portraits.
Rona Parish needs a break from journalism – every article she has written for Chiltern Life magazine has uncovered murder and mayhem! Luckily her editor has the perfect subject for her to write a new biography on: the life and disappearance of renowned artist Elspeth Wilding.
Famous artist Elspeth Wilding mysteriously disappeared eighteen months ago, and nobody has seen her since . . .
Considered one of the most important artists of the twenty-first century, many people have speculated about Elspeth's whereabouts, including her family. Is Elspeth missing, or does she not want to be found? Could her disappearance be linked to the tragic suicide of her closest friend, or has something more sinister happened to her?
Rona Parish is determined to uncover the truth. No matter what.
Can Rona solve the mystery of the elusive artist, or is she heading for own brush with danger?
A page-turning cosy mystery set in the fictional English market town of Marsborough in the stunning Chiltern Hills.

Fans of M.C. Beaton, Richard Osman, Reverend Richard Coles, G.M. Malliet, Margery Allingham, Betty Rowlands and Faith Martin will love this series.
READERS ADORE RONA PARISH:
"Anthea Fraser At Her Best"
"Beautifully written . . . I had forgotten how much I missed and enjoyed this series"
"This is an enjoyable and entertaining series"
"An interesting mystery with a strong cast of characters, all well drawn. I didn't want the book to finish – even when matters were resolved I wanted to carry on reading about their lives"
"Good plot and interesting characters" Amazon reviewer
"Another solid entry in an entertaining series from a genre veteran" Booklist
The Rona Parish mysteries
1. Brought to Book
2. Jigsaw
3. Person or Persons Unknown
4. A Family Concern
5. Rogue in Porcelain
6. Next Door to Murder
7. Unfinished Portrait
8. A Question of Identity
9. Justice Postponed
10. Retribution
Reviews
"Another solid entry in an entertaining series from a genre veteran"
Booklist
"Once again, Fraser tracks an appealing family . . . [who] are always entertaining"
Kirkus Reviews on Next Door to Murder
"The Rona Parish series perfectly captures everyday life in the small towns of the UK . . . [with] enough suspense and mayhem to appeal to all"
Booklist on Next Door to Murder
"Veteran Fraser offers a straightforward British cozy with an inventive plot and an engaging heroine. This will appeal to traditional cozy fans who like a bit of spice and zing"
Booklist on Rogue in Porcelain
"Fans will doubtless enjoy the ongoing Parish family saga"
Kirkus Reviews on Rogue in Porcelain
Editions
Unfinished Portrait by Anthea Fraser is available in the following formats
| | | | | | |
| --- | --- | --- | --- | --- | --- |
| Ebook | 9781780100395 | 1st April 2011 | N/A | 224 | $2.99 |
| Ebook | 9781780100395 | 1st April 2011 | N/A | 224 | £2.99 |
| Format | ISBN | Publication Date | Dimensions | Pages | Price |
Rona Parish ebooks Series