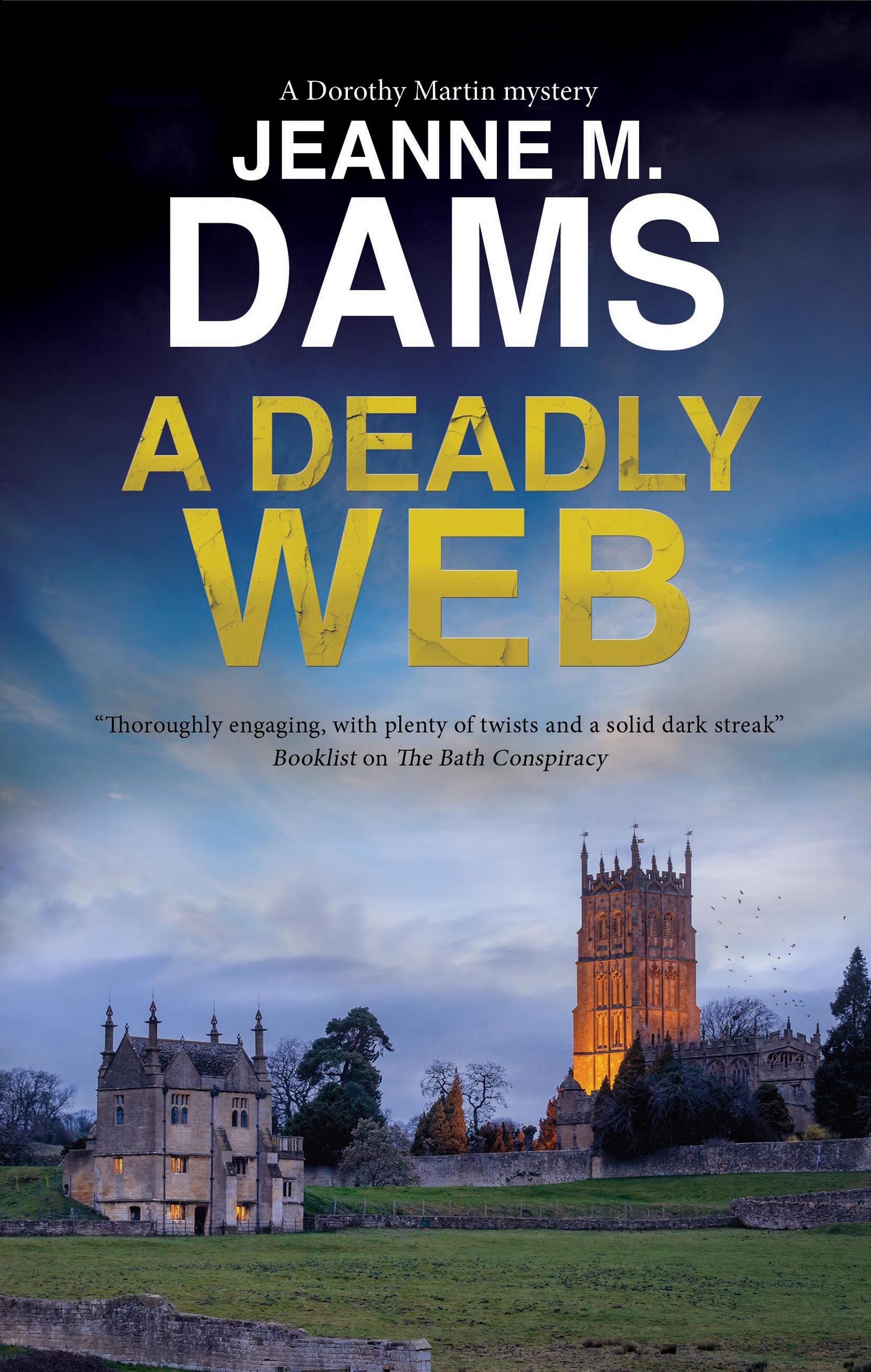 A Deadly Web
by Jeanne M. Dams
When an 'unofficial' relative of Alan's arrives from the States, Dorothy and Alan are drawn into a tangled web of murder and lies.
Dorothy Martin is more than capable of dozing during a raging storm in her snug house in Sherebury, but the loud ping of an unexpected text on her husband Alan's phone quickly wakes her up. Alan's unofficial great-niece, Lucy Bowman, is coming over from the States for a conference.
When Lucy arrives, she gushes about her fiancé, Iain. But Alan makes a disturbing discovery about Lucy's engagement ring, and no sooner has Iain set foot on UK soil when he's the victim of a mysterious hit-and-run. Was it an accident, or murder? Drawn into the police investigation, Dorothy learns that Iain was not all he seemed to be, and uncovers a shocking trail of deceit. Can she separate fact from fiction to untangle a deadly web of lies?
Reviews
"Old-fashioned British mores take some very modern twists in this charming mystery"
Kirkus Reviews
"Fresh and satisfying … the book's supporting characters are as interesting and robust as the two series leads (Dams really is a fine character builder), and the story is thoroughly engaging, with plenty of twists and a solid dark streak running through it"
Booklist on The Bath Conspiracy
"Pleasant ... Anglophiles, especially those like Dorothy and Alan "who are no longer young," will have fun"
Publishers Weekly on The Bath Conspiracy
"Notable for its charming protagonists and historical detail"
Kirkus Reviews on The Bath Conspiracy
"Intriguing … Cozy fans and Anglophiles will be satisfied"
Publishers Weekly on Death Comes to Durham
Editions
A Deadly Web by Jeanne M. Dams is available in the following formats
| | | | | | |
| --- | --- | --- | --- | --- | --- |
| Hardback | 9780727850461 | 1st November 2022 | 145 X 225mm | 224 | $29.99 |
| Hardback | 9780727850461 | 1st November 2022 | 145 X 225mm | 224 | £20.99 |
| Ebook | 9781448307784 | 1st November 2022 | N/A | 224 | $14.99 |
| Ebook | 9781448307784 | 1st November 2022 | N/A | 224 | £12.99 |
| Hardback - Large Print | 9781448312221 | 28th November 2023 | 146 X 223mm | 320 | $38.99 |
| Hardback - Large Print | 9781448312221 | 12th October 2023 | 146 X 223mm | 320 | £23.99 |
| Paperback | 9781448307791 | 25th July 2023 | 140 X 215mm | 224 | $18.99 |
| Paperback | 9781448307791 | 25th May 2023 | 140 X 215mm | 224 | £13.99 |
| Format | ISBN | Publication Date | Dimensions | Pages | Price |
The Dorothy Martin Mystery Series