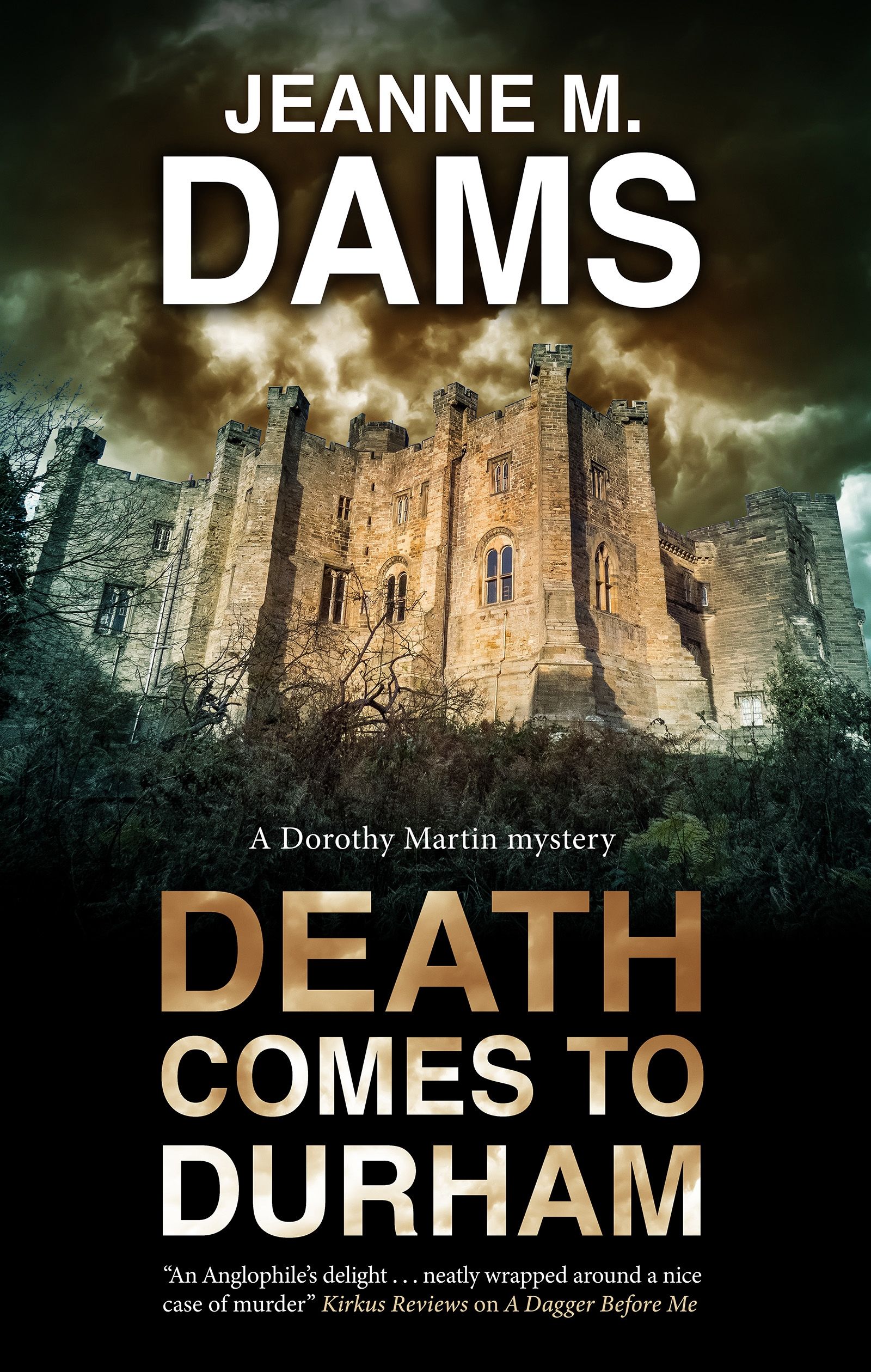 Death Comes to Durham
by Jeanne M. Dams
How can Dorothy Martin clear an elderly woman of murder – when she can't remember if she did it or not?
American Anglophile Dorothy Martin and her husband, retired chief constable Alan Nesbit, are enjoying a pleasant – albeit rain-soaked – stay in the historic university city of Durham with their old friend David Tregarth. Castle tours and cathedral services fill their days as they wander up and down the steep, cobbled lanes of the medieval city. But the holiday comes to an abrupt halt when David's elderly great-aunt is accused of the murder of a fellow patient at her nursing home.
How could a frail dementia sufferer commit such a terrible deed? Dorothy is determined to prove Aunt Amanda's innocence, and launches into an unofficial investigation. But as she and David navigate their way amongst reckless students, inefficient police work and witnesses who have lost the ability to remember, the investigation soon becomes as twisty, slippery and treacherous as the damp cobblestones outside . . .
Reviews
"Intriguing … Cozy fans and Anglophiles will be satisfied"
Publishers Weekly
"The author's tale-telling and dialogue—the back and forth of a comfortable couple is wonderfully depicted—will serve to draw readers in. Dams' followers know what to expect and will be happy to find it here"
Booklist
"A travelogue, a complex mystery, and an empathetic look at the horrific nature of dementia"
Kirkus Reviews
"Tension runs high until the surprise ending, the depravity tempered by lyrical descriptions of Victoria and environs"
Kirkus Reviews on Death in the Garden City
"Anglophiles and history buffs alike will enjoy the cozy mystery merged with travelogue details … perfect for fans of Rhys Bowen and Alexander McCall Smith"
Booklist on A Dagger Before Me
"An Anglophile's delight piled high with enchanting details of arcane rituals, all neatly wrapped around a nice little case of murder"
Kirkus Reviews on A Dagger Before Me
"Fans of the series will be pleased to see this engaging heroine once more"
Booklist on Crisis in the Cathedral
Editions
Death Comes to Durham by Jeanne M. Dams is available in the following formats
| | | | | | |
| --- | --- | --- | --- | --- | --- |
| Hardback | 9780727889256 | 2nd July 2020 | 147 X 224mm | 224 | $28.99 |
| Hardback | 9780727889256 | 31st May 2020 | 147 X 224mm | 224 | £21.99 |
| Ebook | 9781448304349 | 1st July 2020 | N/A | 224 | $25.99 |
| Ebook | 9781448304349 | 1st July 2020 | N/A | 224 | £11.99 |
| Hardback - Large Print | 9781780291666 | 25th May 2021 | 140 X 230mm | 304 | $36.95 |
| Hardback - Large Print | 9781780291666 | 26th March 2021 | 140 X 230mm | 304 | £22.99 |
| Paperback | 9781780297132 | 26th June 2021 | 140 X 216mm | 224 | $17.95 |
| Paperback | 9781780297132 | 29th April 2021 | 140 X 216mm | 224 | £13.99 |
| Format | ISBN | Publication Date | Dimensions | Pages | Price |
The Dorothy Martin Mystery Series