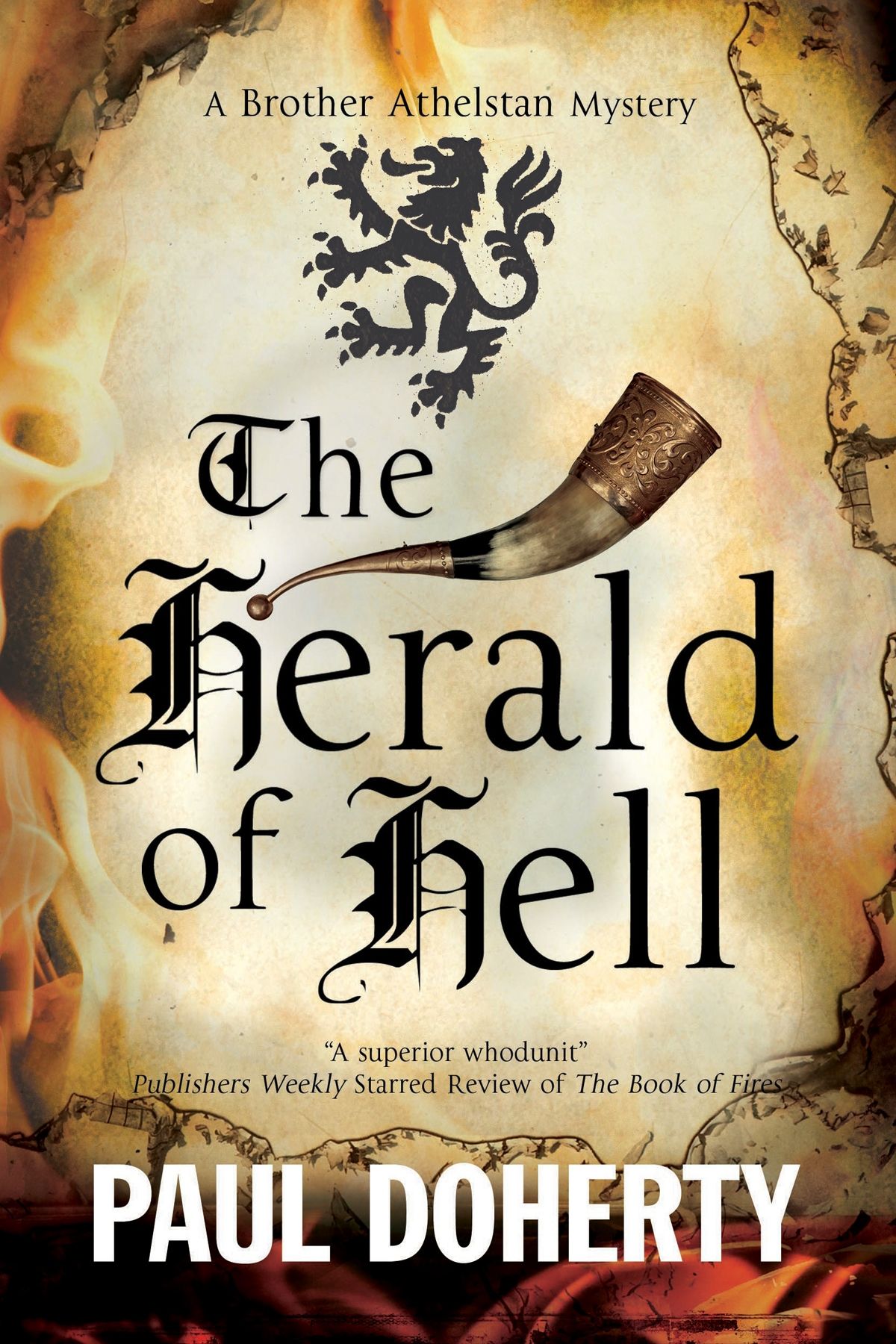 The Herald of Hell
by Paul Doherty
A medieval mystery featuring sleuthing monk Brother Athelstan
May, 1381. The Great Revolt draws ever nearer. The Upright Men openly roam the streets of London, waiting for the violence to begin. Their mysterious envoy, the Herald of Hell, appears at night all over the city, striking terror into the hearts of those who oppose them. But who is he?
When his chancery clerk is found hanged in a notorious Southwark brothel, the ruthless Thibault, John of Gaunt's Master of Secrets, summons Brother Athelstan to investigate. Did Amaury Whitfield really kill himself following a visit from the terrifying Herald of Hell? Athelstan is unconvinced.
In the dead man's possession was a manuscript containing a great secret which he had been striving to decipher. If he could only unlock the cipher and interpret the messages being carried to the so-called Herald of Hell, Athelstan would be one step closer to catching the killer. But can he crack the code before the Great Revolt begins?
Reviews
"A cerebral, slowly unwinding whodunit rooted in history, packed with details of lives so wretched that it's no wonder revolution was in the air"
Kirkus Reviews
"Doherty's long-running series continues to ratchet up the historical tension as actions and event move rapidly and inevitable towards the Peasant's Revolt of 1381"
Booklist
"Doherty excels in grafting a fair-play whodunit onto actual historical events, making the intrigue and fear of the period palpable while giving the astute reader a chance to solve the crime"
Publishers Weekly
Editions
The Herald of Hell by Paul Doherty is available in the following formats
| | | | | | |
| --- | --- | --- | --- | --- | --- |
| Hardback | 9781780290799 | 30th September 2015 | 145 X 235mm | 224 | $28.99 |
| Hardback | 9781780290799 | 30th September 2015 | 145 X 235mm | 224 | £19.99 |
| Ebook | 9781780107103 | 20th December 2015 | N/A | 224 | $6.99 |
| Ebook | 9781780107103 | 20th December 2015 | N/A | 224 | £4.99 |
| Paperback | 9781780295633 | 30th June 2016 | 140 X 215mm | 224 | £12.99 |
| Paperback | 9781780295633 | 30th June 2016 | 140 X 215mm | 224 | £13.99 |
| Format | ISBN | Publication Date | Dimensions | Pages | Price |
The Brother Athelstan Mystery Series